Acquisition of the KORTICK manufacturing company
06/09/2020 - 15:08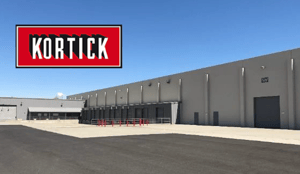 In line with our expansion and international growth strategies and expanding our presence in the United States of America, The SICAME Group announces the acquisition of The Kortick Manufacturing Company located in Pittsburg, California effective June 1, 2020.
Founded in 1898 and previously owned by the Frase Family, Kortick produces and supplies electrical products and equipment for use in overhead and underground electrical networks, supplying contractors, distributors, and electric utilities on the west coast including, Pacific Gas & Electric, Southern California Edison, and the Sacramento Utility District.
Among Kortick's many product lines is the eco-friendly AmorGalv®, Thermal Diffusion Galvanization (TDG) process, which has helped position the company as a major supplier of hardware in support of the hardening of the electrical infrastructure in California and other states.
Kortick employs 75 people at its Pittsburg facility.
With the acquisition of Kortick, SICAME expands its footprint in the United States and continues its international development and diversification plan, supported by a strong innovative company recognized as a major supplier to the electrical markets on the west coast.
By joining a world leader in the field of electrical transmission and distribution networks, Kortick will continue to grow, innovate, and expand its markets.
ABOUT KORTICK
Founded in 1898, Kortick Manufacturing Company is a manufacturer and distributor of overhead line and underground equipment with a history and heritage serving the largest customers in the United States.
With over 100 years of experience in galvanized hardware, Kortick has extensive expertise in working with hundreds of customers worldwide and providing high quality products.
Sicame Expedites Deliveries of Fluid Resistant Face Shields to Protect American Workers
As most of the country remains shut down, essential services are still being delivered by a dedicated and tireless workforce. Employers are scrambling to protect their workers but adequate supplies remain an issue. In addition, the demand will only increase as parts of the country start to head back to work.
Sicame Corporation has leveraged its global presence and has secured a supply of Safety Face Shields to cover the nose, eyes and mouth. They cover all the portals of entry and can be used with masks to block splashes and sprays from reaching the face. In addition, they prevent workers from touching their faces.
Sicame Fluid Resistant Face Shield:
CW-11945
Disposable safety face shield. Fluid Resistant shield provides full face visor protection from splash.
Fitted with comfort foam with an elastic strap for securing to the forehead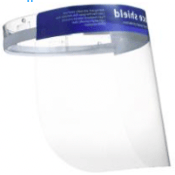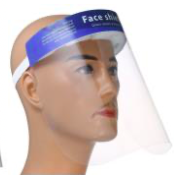 CW-11946
Safety face shield provides full face visor protection. According to EN 166.
Milled wheel adjustment mechanism allows for easy fit to the head.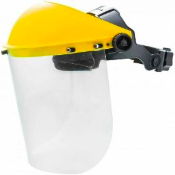 Shipments to commence late week of 4/20 or early week of 4/27. If allocation required, earliest orders will receive preference.
Orders can be submitted to Orders@sicameusa.com.
For questions, please email sales@sicameusa.com or call 630-238-6680.
This face mask product is provided as is without any guarantees or warranty. In association with the product, Sicame makes no warranties of any kind, either express or implied, including but not limited to warranties of merchantability, fitness for a particular purpose, of title, or of non-infringement of third party rights. Use of the product by a user is at the user's risk.
About Sicame
Sicame Corp. is the United States subsidiary of the Sicame Group based in Pompadour, France. Sicame was founded in 1955 to provide low voltage equipment to large European companies. After gaining a strong position in the European market, Sicame continued its development by diversifying its products and geographically enlarging its markets. Today, the Sicame Group is an international corporation operating in 23 countries and selling in over 120. We offer low and medium voltage products designed and manufactured by various subsidiaries of Group Sicame, as well as safety equipment.
Utilities Turn to More Reliable & Less Expensive Anchoring System in Difficult Terrain
An article in "Utility Products Magazine," highlights the Sicame Star Pole Anchoring System. The Star Pole Anchor System is designed for setting wooden or composite transmission poles on rock, concrete or any hard surface.
The article highlights how the Star Pole Anchor System solves many of the problems facing today's utilities:
"For years, crews had to use air compressors, jack hammers and rock drills along with dynamite to get a clean hole to set a pole. This method is not only time consuming and expensive, but regulations have made this more difficult. More and more utilities in North America recognize the problem and have turned to a better solution called the Star Pole Anchor. This would include utilities like PGE, SCE, Seattle City Light, as well as Southern Company, Saskpower and Hydro Quebec."

"'Rather than spending time and money in blasting and rock drilling, our solution requires drilling four holes and tightening,' said Matt Jolani, North American Engineer for Sicame. 'It's clearly a safe and reliable solution that allows utilities to save money and harden their system at the same time. Our Star Pole allows utilities to easily secure any utility pole within minutes to resist any load while keeping cost down and production up.'"
To see the Star Pole Anchor System in action and learn more click to our Star Pole Anchor System page or contact your Account or Regional Manager.
Covid-19 Update
Since the beginning of the health crisis surrounding Covid-19, ASK Power – Sicame Corp. has instituted new procedures to ensure the safety and health of our employees, while continuing to support our Customers during this difficult time. We are following the recommendations of the CDC as well as State and local governments in order to limit the spread of the virus.
Considering that the products we produce are essential for the operation of the electrical utility infrastructure of the country and certain government operations, we remain open for business and our factories continue to produce products. We are actively partnering with all of our subsidiaries in a Global effort to deal with this exceptional health crisis. We conduct daily risk reviews and assessments and are taking measures to minimize the impact on our production and supply chain systems.
Should you have any questions, please contact your Account or Regional Manager. You are also welcome to contact Jill Hess our Customer Service Manager at jhess@ask-power.com / 630-896-4056 or me.
Thank you for your support. You can count on the commitment and professionalism of all our teams as we work through this unprecedented situation.
Regards,
Todd Beauchamp
Director of Sales & Marketing
ASK Power - tbeauchamp@ask-power.com (c) 847-609-3590
A subsidiary of SICAME Group - https://www.sicame.com/en/